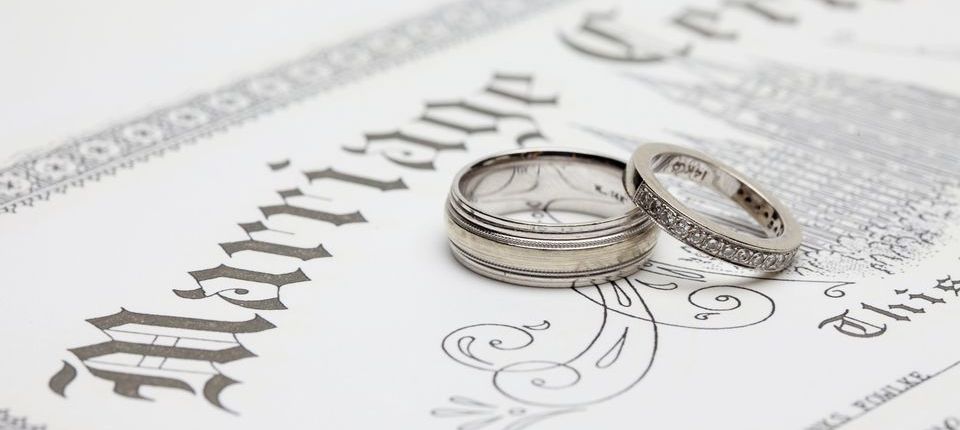 Marriage Certificate
---
Many companies need to see proof of your name change before updating your records. This helps safeguard your account. If you're changing names from marriage then the only document you need to get started is your marriage certificate.
You may have been issued with a hand written certificate or religious certiicate on your wedding day. This is not always accepted as it is missing certain security features that come with a government issued marriage certificate.
England and Wales
All marriages are recorded by the local registry office in the county where you were married. Costs vary, but expect to pay around £11. Search for your local registry at https://www.gov.uk/register-offices. You may find your local registry offers online certificate ordering. We recommend ordering at least 2 certificates so your name change isn't held up where you've sent out your only original certificate.
The General Registry Office (GRO) can only issue marriage certificates 12 to 18 months after the event took place. If your wedding was at least 18 months ago, you can order from the GRO online. (cont..)
CTA WAD HERE
Scotland
Apply to any local registrar office no matter where in Scotland your wedding was recorded. You may also order an official copy of your wedding certificate from the ScotlandsPeople website online or in person.
Northern Ireland
Order NI marriage certificates online from the GRO. Certificates are £8 each plus a search fee.
Considering Changing Names?
Save hours with a personalised name change kit

Guaranteed to save your hours, or your Money Back!
Government agencies
Passport
Driver license
Voter registration
HMRC and more!
12 additional categories
Banks & credit cards
Health, home, car insurances
Loyalty programs
Utilities and more!