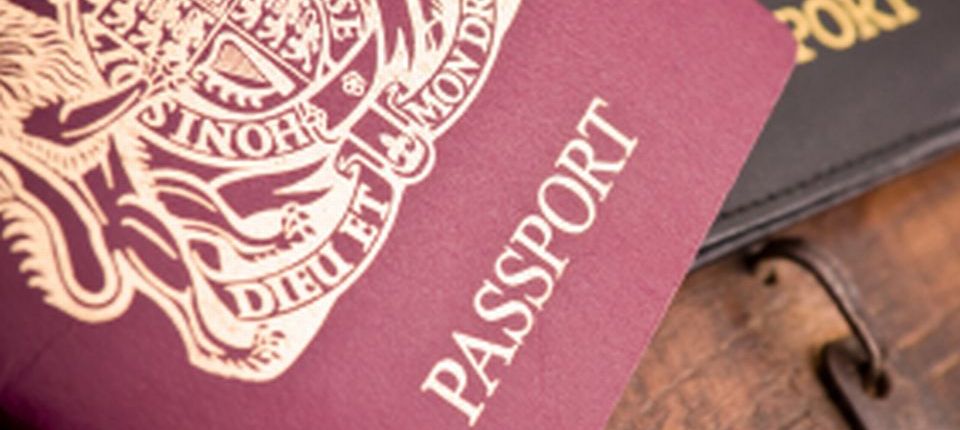 How to Change the Name in your Passport
---
Full passport renewal fees are payable regardless of the time remaining in your current passport or your reason for changing names. There is no credit for time remaining on your passport. While it's nice to have a passport in your new married name, you are not legally required to change it.
No matter your reason for changing names, all applicants should submit their passport application online. It's cheaper and faster than using a paper form. Online applications typically take 3-4 weeks.
Name changes from marriage
There are two options for marriage name change; have your passport changed to your new name before marriage, (it is then only valid after your ceremony) or apply for a new passport after your wedding. (cont...)
CTA WAD HERE
If you don't plan to travel abroad immediately prior to your wedding, you can send in your current passport for renewal within the three months before your wedding. A new passport is issued in your new name, but is only valid from your wedding day.
If you're applying before your wedding, you also need to provide the form 'Passports for newly weds and civil partners' form (provided in your kit). We don't recommended applying for this post-dated passport if you need to either travel or apply for foreign visas before your wedding.
You can keep your passport as is and not apply for a name change, even if you have changed names everywhere else. As your married name is only an 'assumed' name, you can continue using your former name in any places you like, for as long as you like. You may prefer to only change names when your passport is close to expiry, or you may have pending travel arrangements booked in your former name that should be completed before changing the name in your passport.
Divorced or reverting to a prior name?
Like anyone married, if you're changing names from divorce or reverting to your maiden name you can change your passport whenever you like. You may use your current passport for as long as you like. It can be a good idea to wait until your current passport is is close to expiry as you are not issued any credit for remaining time, or you can change your passport straight away. The process is the same. Complete the passport application form online. You may pick up a paper form from selected post offices but there are higher fees.
Anyone reverting to their maiden name should supply their birth and marriage certificates and a sworn statement saying that you intend to use your maiden name for all purposes. You also need proof you are using your preferred name, for example, a pay slip, bank statement or correspondence from any government department. If you are divorced you must also provide your decree absolute.
Changed names by Deed Poll?
If you've changed names by deed poll then you should not continue using a passport issued in your former name. You have renounced the right to use your former name as part of the deed poll process, so you are obliged to arrange a replacement passport as soon as practical.
If you have changed names by deed poll, include your original deed poll certificate with your application. There is no credit given for any time remaining in your passport.
How to apply
At the time of writing, a standard passport applications take at least 3 weeks and costs £75.50 or £85.50 on a paper form. Priority service is available for an additional fee.
Start the application online. You may instead up an application form from most Post Offices, or else have a form mailed to you by calling 0300 222 0000. Paper forms cost an additional £9.50.
If you are changing names and need to notify a range of UK organisations use an Easy Name Change personalised kit. Get ready to send letters and emails, special company forms and detailed instructions for all your companies. In many cases just sign and send! Save yourself hours of research, ringing around and letter writing. We've done all the hard work for you.
Be careful with pending arrangements
Decide if you want to change names in your passport before or after any pending international travel. You must always travel in the same name that appears in your passport, or else your flights will be void.
If changing names in your passport before travelling, ensure you have sufficient time in case your passport application is delayed, or don't book flights until your passport is changed. If your airline allows name changes with legal proof, consider booking under your current name, then changing the name on your flights once your new passport is issued.
What about changing names elsewhere?
Once your passport and driving licence has been updated, you need to change names everywhere else. Companies have a range of procedures, so you may need to call, send a letter, a form or a fax. To learn the name change procedures for hundreds of UK organisations, simply click the button below.
Considering Changing Names?
Save hours with a personalised name change kit

Guaranteed to save your hours, or your Money Back!
Government agencies
Passport
Driver license
Voter registration
HMRC and more!
12 additional categories
Banks & credit cards
Health, home, car insurances
Loyalty programs
Utilities and more!