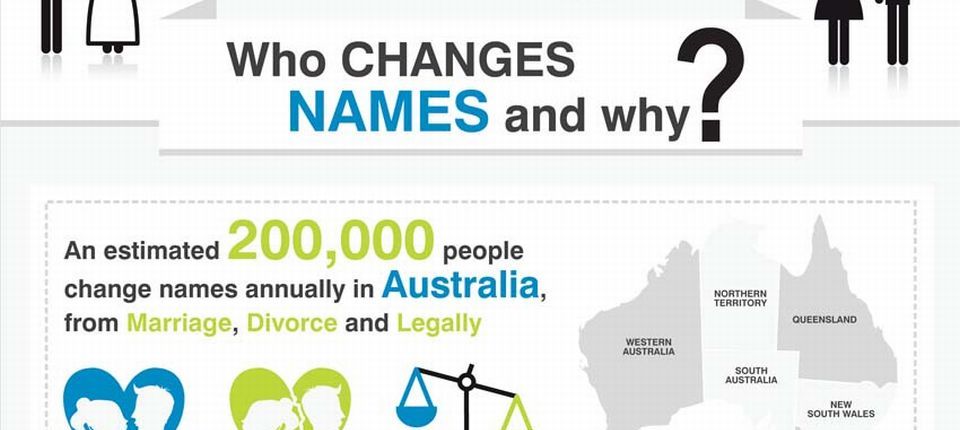 2013 Survey
---
Our 2013 survey looked at the attitudes toward name change and what motivated hundreds to consider or change their name across the year. The full survey can be provided on request to gen@easynamechange.com or call 03 9015 7699. The survey was conducted in March 2014.
Genevieve Dennis is frequently quoted in the media and is Australia's leading authority on name change trends and insights.
Some key insights from our 2014 survey:
Married name change
Half believe changing names is romantic and reflects their achievement in marriage.
Half believe it should be socially acceptabel and encouraged for men to change names on mariage.
Why do brides change names? There's 4 key drivers, however wanting the whole family to have the same name is most important.
Divorce and separation name change
Women who chage names from divorce are so much sure of their decision:

Almost 90% strongly agree that they have 'an improved sense of identity'
Almost 90% agree or strongly agree, 'I am happier since changing names'.

Divorce name change is dominated by older women, many who have lived with their married name for longer than their birth name!
Legal name change
There are 6 key drivers for legally changing names, the two most cited reasons are;

'I am joining or affirming my place within a family, and;
'I didn't like my name or just wanted a new name'.

Women are more likley to legally change names, accounting for 63% of legal name changes
We have many fascinating individual accounts with media permissions!

Considering Changing Names?
Save hours with a personalised name change kit

Guaranteed to save hours, or your money back!
Government
BDM Certificates
Driver License
ATO
Over 50 listings!
And More!
13 company categories
Ready to send letters
Company name change forms
Just sign & send!