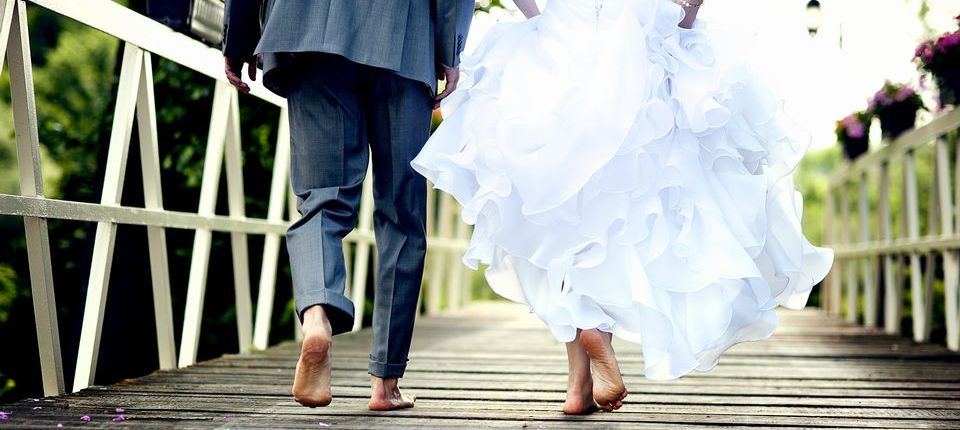 Your Married Name Options
---
Either spouse has 4 options for their name after the wedding. Either partner can take any one of the options below. As a couple you can have different surnames. Any of these changes can be taken with only your marriage certificate as evidence of your new name.
Either spouse may change their surname to their spouse's surname. This is still the most popular choice in traditional relationships with around 80% of brides still going down this path.
You can use a combination of your married and former names. Professionally you may want to retain your current name, especially if you've forged a career in this name. Personally you may choose to update your passport and driver's license to have the same surname as your partner. Just ensure your personal documents and ID are consistently under one name or you may experience issues when you need to prove your identity.
Double-barrelled. This is where you add your spouse's surname to your own. This is explained in more detail below.
You can leave your name as-is and take no action.
Double-barrelled surnames
A double-barrelled surname (or joint name) is where you take your spouse's surname and add it to your own surname in any order (ie: Jones-Smith). The names can separated by either a space or hyphen and can be arranged in any order. Most Canadian organizations, including the passports office, allow a double-barrelled surname on the presentation of a marriage certificate.
BC Care Cards and BC driver licenses do not allow double-barrelled surnames after marriage. If you chose to take a double-barrelled surname in BC you will need to apply for a legal name change. If both spouses want a double-barrelled surname then only one spouse needs to apply for a legal name change before arranging their marriage licence. Once you are married the other spouse can use the marriage certificate to assume the other's surname.
Want a different surname entirely?
A couple could change their surname name to a different name entirely, but if it is not one of the above options then you need to successfully apply for a legal name change. It is cheaper and easier for one spouse to apply for a legal name change before their wedding. Once the marriage certificate is available the other spouse can use it to change their own surname to their spouse's.
Ready to start changing names now?
No matter if you are already married or still in planning mode, you can prepare your name change paperwork now. Click below to get all the information and paperwork required to start changing names. You can send off all your name change notifications and forms as soon as your wedding certificate is available. If you don't yet have your wedding certificate we can provide you with the application form too.
Considering Changing Names?
Save hours with a personalized name change kit

Guaranteed to save your hours, or your Money Back!
State & Federal agencies
Over 200 listings
Marriage certificate
Driver's license &amp DMV
Passport
Researched processes for;
Over 1,000 organizations
12 company categories
Unlimited selections
Money back guarantee